Spring is finally here! Post Easter we all feel like we should get back on track, limit chocolate intake and start eating better. Spring Lemon and Dill Salmon Pasta with Asparagus and Peas I have on offer for you today will be your perfect start. It is one of those dishes that feels really rich and indulgent but at the same time is full of good, body nourishing ingredients. It will make you feel good about the way you eat (as long as you stick to one portion that is). 😉
I am a huge fan of fish and seafood but salmon in particular. I love how versatile and rich it is and simply love the flavour! To top it off, all the omega-3 goodness that comes with it speaks for itself. Fresh salmon can be quite expensive but I tend to get 1kg filleted salmon sides when they are on offer. I then portion as needed and freeze.
I have included couple of more indulgent ingredients in this recipe, like full fat creme fraiche and spot of butter. If you feel the need to swap them for low fat options, by no means do it. You can even cut the butter out altogether if you wish without compromising this lovely pasta. It is such a versatile dish and you can adapt it according to seasons. However, with availability of first English asparagus, my task here was easy for this spring feel pasta. 🙂
I'm sure most of you know how to prepare asparagus but just in case it is your first time… Make sure you trim the bottom, woody ends of each stalk. The best way to do this is to bend each spear lightly and it should snap exactly in the right place, leaving you with tender tip and woody end separated.
I hope you enjoy my Spring Lemon and Dill Salmon Pasta with Asparagus and Peas as much as we did!
Spring Lemon and Dill Salmon Pasta with Asparagus and Peas
Ingredients
400g pasta of your choice (I've used whole wheat farfalle)
500g fresh salmon fillet
250g asparagus (woody ends trimmed, see blog post above)
150g frozen peas
Juice of 1 lemon (save 1 Tbsp to pour over salmon fillet before baking)
200g creme fraiche
small knob of unsalted butter (approx 10g)
2 Tbsp of finely chopped dill + few extra sprigs for decoration if you'd like
Instructions
Dry salmon fillet and put it on baking tray lined with aluminium foil and lightly oiled. Pour 1 Tbsp of lemon juice over the fish and season with salt and pepper. Bake in the oven preheated to 180°C for approx 15-18 min.
While salmon is baking, bring big pan of salted water up to boil and put in your trimmed asparagus for about 3 min until only just tender. Take asparagus out and set aside. Cook your pasta in boiling asparagus water according to instructions on the packet (make sure you save some water when draining your pasta).
In another pan, melt butter (if using) and add frozen peas. Keep cooking them in butter or in the dry pan for couple of minutes. Add creme fraiche and stir well. Add all the lemon juice, stir well and cook gently for a few minutes until sauce warms through.
Chop each asparagus spear into three roughly equal pieces and save very tips for decorating individual plates.
Add chopped asparagus stalks to the sauce together with boiled pasta and one ladle full of pasta water (you might need to add a tad more depending on consistency of your sauce and how you like it).
Flake baked salmon fillet and gently mix with the saucy pasta. Sprinkle chopped dill and stir well.
Plate up and add some asparagus tips to each individual plate and extra sprig of dill to make it look pretty. 🙂
Enjoy!
https://joskitchenlarder.com/spring-lemon-dill-salmon-pasta-asparagus-peas/
I'm linking this recipe with the following blog challenges: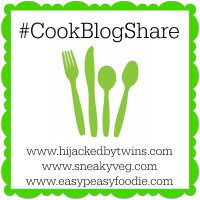 Recipes Made Easy
this week's host