I love Tiramisu! It is definitely on the list of my favourite desserts (even though it is quite a long list I must admit). It also happens to be one of my hubby's favourite so I tend to make it as a special treat for him or as a bribe when I want for something to get done lol. 😉 Occassion isn't important here at all as this Perfect Eggless Tiramisu definitely doesn't need one!
This particular Tiramisu is based on the recipe I have seen in BBC Good Food Magazine quite a few years back and which I have since modified to my liking. I have made it a bit lighter just to make myself feel a bit better when eating it and also changed the alcohol used from original Marsala to Baileys. Feel free to use any other coffee liqueur or indeed go back to Marsala. I do, however, find Baileys simply perfect here.
The best thing about this dessert is that it can be prepared in advance and it is the best after a good chill in the fridge preferably overnight (although if you are short on time couple of hours will do too)!
The fact that this dessert is eggless wasn't too intentional and it definitely isn't authentic, however I do prefer it to the eggy version myself plus it makes it perfect if you are catering for someone who can't eat eggs.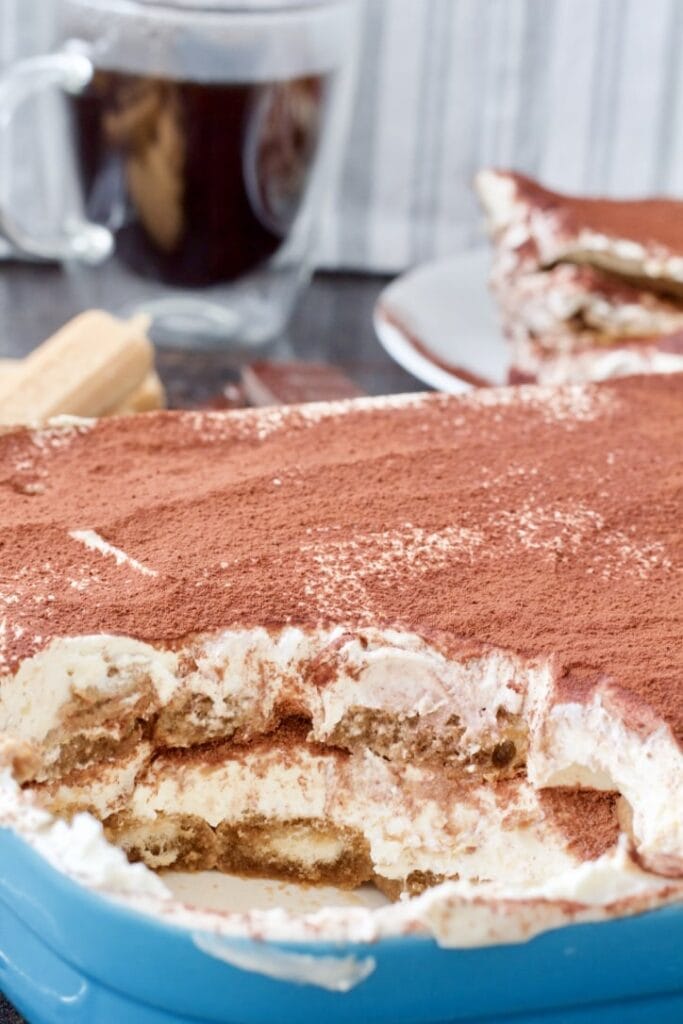 I don't know about you but I like biscuits in my Tiramisu really well soaked in coffee. The amount of coffee for well soaked biscuits is 300ml and I never have any left. To make things slightly easier on yourself divide your biscuits and coffee in half and make sure you use 150ml of coffee for each 100g of biscuits. Oh and a word of warning here! Unless you are really strong willed, you will most likely end up with couple of lady fingers biccies (pre-soaked) in your belly which is (of course) allowed (even encouraged) lol. Perks of the cook, they say!
I like to make my tiramisu in one large dish (approx. 24 x 18cm) however you might prefer individual portions. These look best in nice tumbler or perhaps sundae style glasses where you can see all the layers. Most of the time one dish tiramisu is much easier and quicker though, and if you put your mind to it when serving up, you can get great looking, neat squares that will impress. 🙂
Ingredients
300ml double cream
200g pot half-fat creme fraiche
250g pot mascarpone or mascarpone light
75ml Baileys or any other coffee liqueur
5 Tbsp caster sugar
300ml strong coffee made with 2 Tbsp instant coffee granules & 300ml boiling water (you can also use 300ml or espresso or strong filtered coffee)
200g pack of lady fingers (savoiardi) biscuits
roughly 4 small or 2 large squares of good quality dark chocolate (for grating)
1 Tbsp cocoa powder
I used rectangular baking dish roughly 24x18cm
Instructions
Start with preparing coffee. Set aside and let it cool slightly.
While coffee is cooling prepare your mascarpone cream mixture by mixing together mascarpone, double cream, creme fraiche, sugar and Baileys in a bowl of standing mixer using balloon whisk attachment or using a hand mixer. Mix together until you get the consistency of thick whipped cream. Take care not to overbeat.
Divide biscuits in half and dip them one by one in coffee. Let them "drink" the coffee a bit. You should use approx. 150ml on each half of biscuits. Layer the biscuits at the bottom of the dish as you dip them in the coffee. If after dipping your biscuits you still have some coffee leftover (you used less than 150ml) I would suggest to pour it gently over the biscuits using the spoon.
Spread half the mascarpone mixture on top of the first layer of coffee soaked biscuits.
Using fine microplane (or similar) grater, grate the dark chocolate squares over the mascarpone layer.
Follow with another half of lady finger biscuits soaked in coffee and another layer of mascarpone mixture.
Finish with dusting of cocoa powder.
Chill for at least couple of hours but preferably longer.
Serve and enjoy!
https://joskitchenlarder.com/perfect-eggless-tiramisu/
If you are after some more desserts with a bit of Wow! factor take a look at my Pancakes (Crepes) with Mascarpone Cream & Cranberry Compote, which are simply irresistible or perhaps Chocolate Brioche Pudding with Raspberries which is a very special take on bread and butter pudding and last but not least this Vanilla Cremem Brulle to impress!
Have you tried my Perfect Eggless Tiramisu? Leave a comment at the bottom of this post, I love reading them!
If you don't want to miss new recipes and updates from me make sure to subscribe to new recipe alerts in the top right corner of this page or come and say hello over on my Facebook page, Twitter or Instagram
Pin It For Later!
[bloglovin_button]
I'm linking my Perfect Eggless Tiramisu post with the following pages:
Cook Blog Share hosted this week by Kirsty at Hijacked by Twins and Jacqui at Recipes Made Easy
Cook Once Eat Twice hosted by Corina at Searching for Spice
Brilliant Blog Posts hosted by Vicki at Honest Mum Blog
Recipe of the Week hosted by Emily at A Mummy Too
Baking Crumbs hosted by Angela at Only Crumbs Remain
We Should Cocoa hosted by Choclette at Tin and Thyme