My love affair with blood oranges continues, although (sadly) the season is now slowly coming to an end. Funny enough, this late in the season, I finally got some of that gorgeous "blood" hue in my oranges I didn't have earlier on. Even though it doesn't affect the flavour at the slightest and they were delicious throughout, I just love how beautiful they look in their full glory. Consider this Easy Blood Orange Drizzle Cake as my grand finale to what's been a fantastic and full of Vit C and citrus goodness winter season!
This recipe is based on very traditional, all-in-one method for the lemon drizzle cake I've been making for years. It has recently dawned on me (when enjoying yet another tasty blood orange) that I should really try taking advantage of this gorgeous juicy fruit in the drizzle cake. The result of my little swap was absolutely delicious and I simply had to share this recipe on the blog.
Do not fret if you don't have access to any blood oranges. Simply substitute them with any type you can get your hands on. I find Navel Oranges (widely available) the closest in sweetness. They also don't have any seeds which is always a bonus.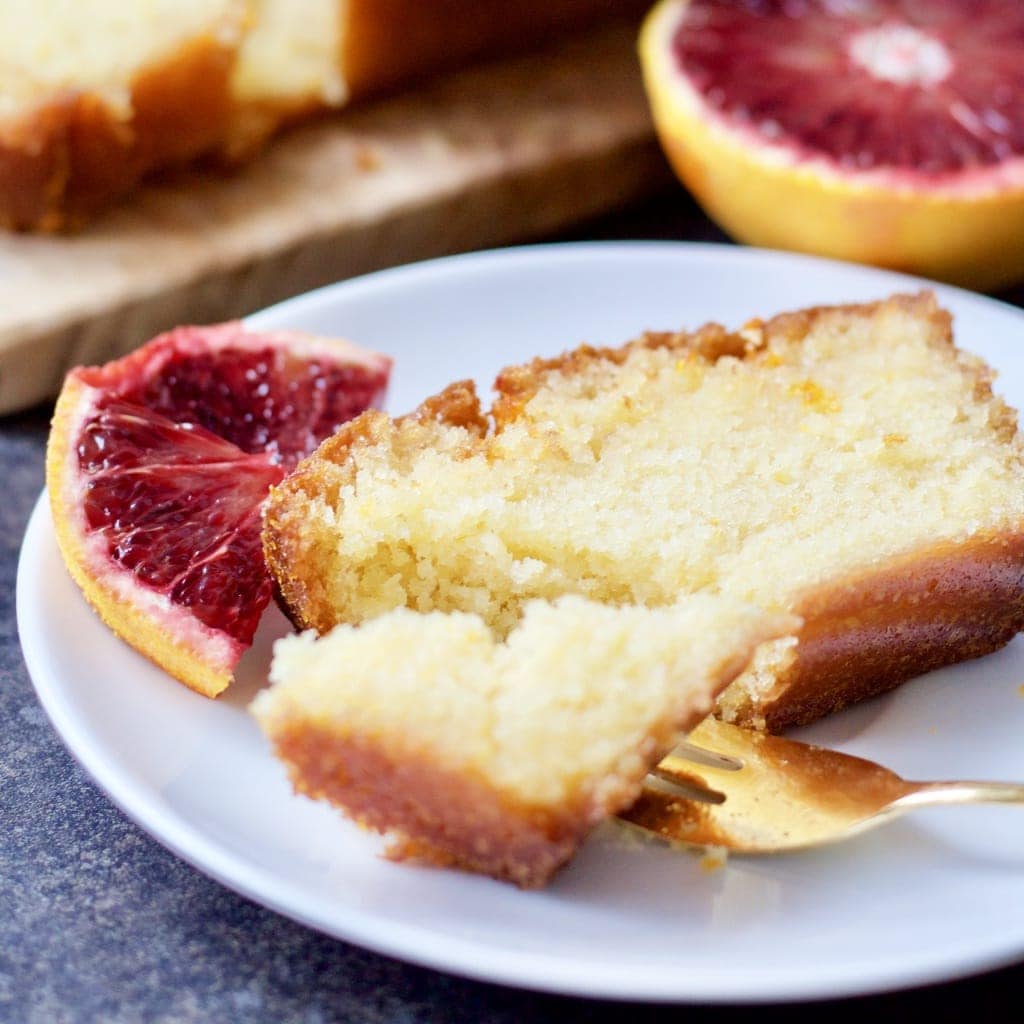 If you are after some more gorgeous blood orange recipes, take a look at this Gluten-Free Orange and Almond Cake or this rather healthy Blood Orange & Ginger Smoothie. Perfect for balancing out all that cake lol. 🙂
If, however, cake is all you want I've got some more delicious recipes on the blog this Best Ever Chocolate Courgette Cake and Easy Pear and Fresh Ginger Cake being only couple of examples. You will find many more dessert and cake options for any occasion and skill level, simply browse Cakes or Desserts archives.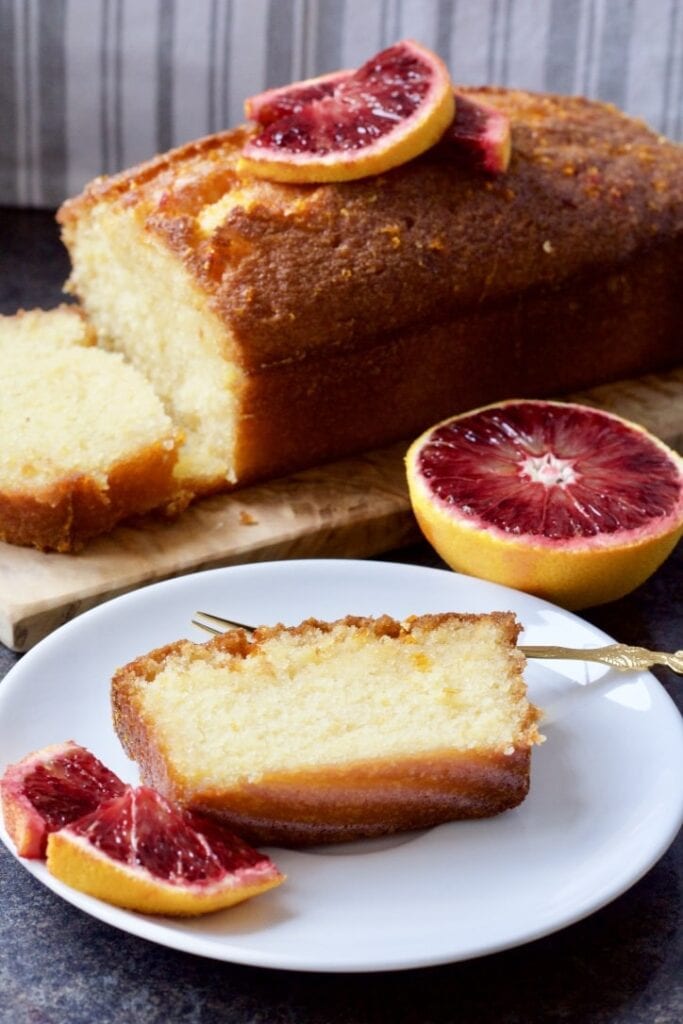 Easy Blood Orange Drizzle Cake
Reinvented classic using blood oranges instead of lemons. Really easy to make, perfect afternoon tea accompaniment.
Total Time
1
hour
5
minutes
Ingredients
Blood Orange Drizzle Cake
225

g

caster sugar

225

g

self-raising flour

sieved

225

g

baking spread or softened unsalted butter

1/2

tsp

baking powder

zest of one blood orange

100

ml

milk

3

large eggs

lightly beaten
Topping
juice and zest of one blood orange

100

g

caster sugar
Instructions
Blood Orange Drizzle Cake
Preheat the oven to 180C / 350F / gas mark 4.

Prepare a loaf tin (roughly 23x11cm) or alternatively 20 cm round cake tin by greasing it and lining with greaseproof paper.

Put caster sugar, baking spread, eggs and blood orange zest into the mixing bowl. Next add sieved flour and baking powder followed by milk. Mix using paddle attachment of your food processor or with a wooden spoon or electric mixer until all the ingredients are combined and your mixture looks smooth.

Pour your cake mixture onto prepared loaf or cake tin and bake in the preheated oven for approx. 50 min until the skewer inserted into centre comes out clean.

Prepare your syrupy topping by mixing caster sugar with juice and zest of one blood orange until sugar dissolves in the juice.

Take your cake out of the oven and put it on the cooling rack.

Using the skewer, prick the top of your cake all over to make little holes.

Spoon syrupy topping gently all over the cake allowing for it to get through the little holes. Make sure you use up the entire mixture.

Let the cake stand in the tin until completely cooled. Remove it from the tin, slice and enjoy!
Notes
Feel free to use softened unsalted butter instead of baking spread if you want.
Make sure all your ingredients are at room temperature and the flour is sieved. 
The syrupy topping should be poured over the cake as soon as it's out of the oven for maximum absorption.
Have you tried my Easy Blood Orange Drizzle Cake? Leave a comment at the bottom of this post, I love reading them!
If you don't want to miss new recipes and updates from me make sure to subscribe to new recipe alerts in the top right corner of this page or come and say hello over on my Facebook page, Twitter, Instagram or Google+
Pin For Later!
I'm linking my Easy Blood Orange Drizzle Cake with the following pages:
Cook Blog Share hosted by Jacqui at Recipes Made Easy and Monika at Everyday Healthy Recipes
Cook Once Eat Twice hosted by Corina at Searching for Spice
Brilliant Blog Posts hosted by Vicki at Honest Mum Blog
Bake of the Week by Helen at CasaCostello and Jenny at MummyMishaps
Recipe of the Week hosted by Emily at A Mummy Too
Baking Crumbs hosted by Angela at Only Crumbs Remain