These Crunchy Pumpkin Cookies have been the labour of love! You know by now how pumpkin obsessed I am but so far I have been pretty lucky with my pumpkin puree based bakes. They all worked first time! These cookies had different idea!
The problem was that I wanted to create a crunchy cookie, one with a bit of a snap as majority of pumpkin cookies out there are the soft ones. Instead, all I was getting were cookies that were not even cakey or chewy or soft but kind of on a claggy side – not good!
Needless to say, after some experimentation I finally managed to achieve lovely, buttery, melt in your mouth pumpkin cookies with a bit of a crunch – utterly delicious!
My initial problem was down to the fact that I underestimated the level of moisture in pumpkin puree, the ratio of butter to flour for that buttery, melt in the mouth consistency and also the role that oven temperature and timings play here. I got there in the end though and couldn't be happier with these little pumpkin cookies now! They are a doddle to make and the dough itself is a pleasure to work with. It isn't sticky at all and rolls out and cuts beautifully!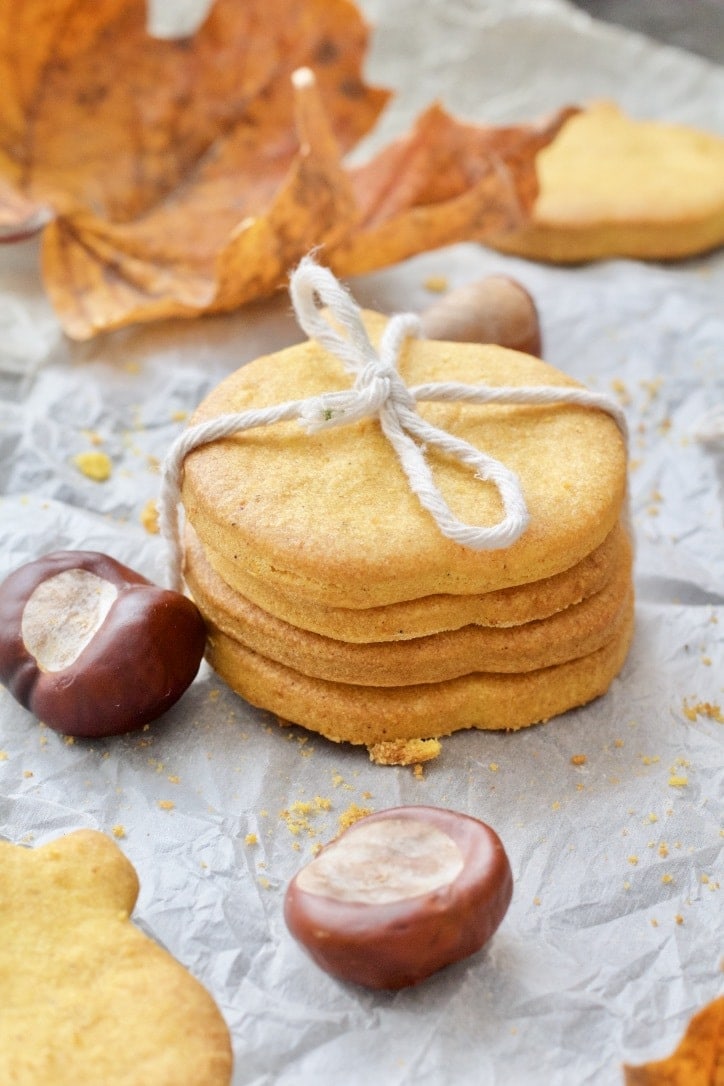 Tips for baking Crunchy Pumpkin Cookies!
Make sure that pumpkin puree you are using is really dry (I couldn't stress it enough)! Even though I'm a huge advocate of making your own puree it might be safer to use the tinned version here. Although if you can get your hands on my favourite Hokkaido Pumpkin you should be ok with homemade version (read my tips and tricks on making your own pumpkin puree here).
Chilling the dough is quite crucial as it is with majority of buttery cookies/biscuits. 30 min is an absolute minimum but if you can spare it more time please do.
Make sure you stick to the ratio of flour to butter and don't try to make these "skinny" as they will simply not work. Trust me, I've tried it!
These work best when baked at slightly lower temperature of 170C/325F/Gas Mark 3 and for slightly longer (approx 20 min). Most of us know our ovens well though and as they can be tricky beasts at times, make sure you start watching your cookies from 15 min on to prevent them from getting too coloured.
As soon as they're cold transfer them into a tin/box/jar to keep them as fresh and as crunchy as possible for longer! They will keep their crunch for a couple of days but after that they will slowly start going a bit softer (still lovely and melt in your mouth though).
This recipe will give you approx 37 cookies (that's what I got with my pumpkin cutter) and they were gone within a day! Feel free to use any cutter you fancy. We will be making some more of these to share out on Halloween and ghost, bat and witch's hat are waiting at the ready.
Feel free to decorate these with some icing if you want to! It could be a nice rainy afternoon project with your kids. My lot will not touch any iced cookies or biscuits hence we decided to leave these plain.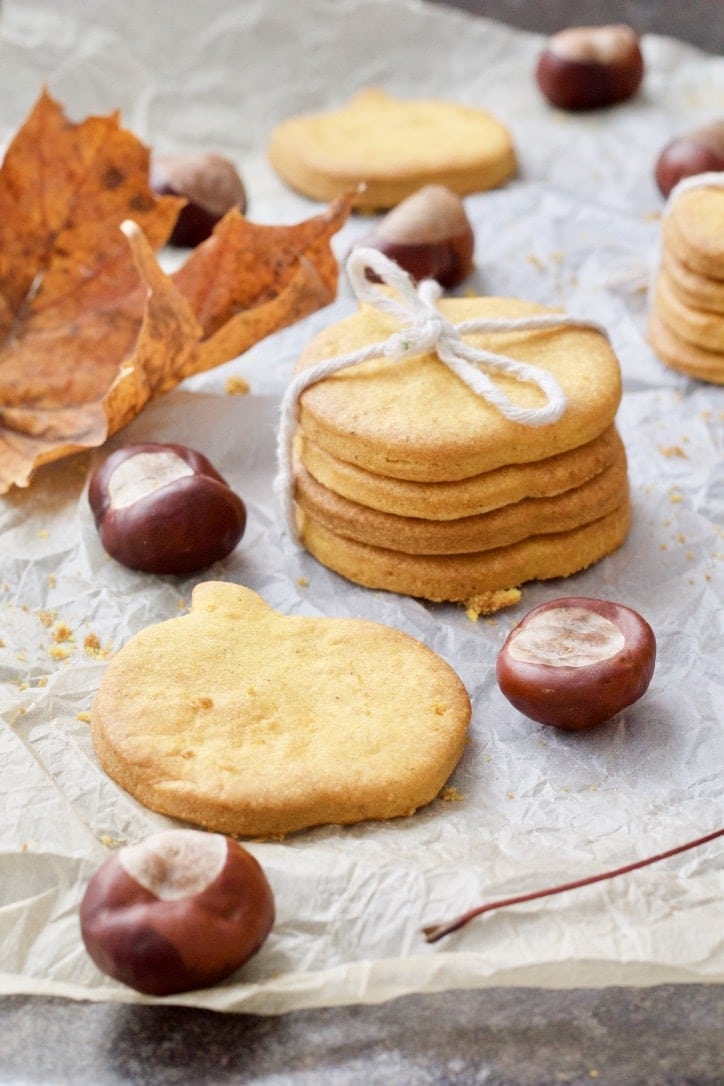 Other recipes you might enjoy:
Easy Chocolate Gingerbread Biscuits
Chocolate Shortbread Biscuits with Mini Eggs
Salted Peanuts & Peanut Butter Millionaire's Shortbread
Crunchy Pumpkin Cookies
Crunchy Pumpkin Cookies are beautifully buttery, melt in your mouth and tasting of pumpkin and cinnamon! Perfect cookie with a crunch for any occasion!
Chilling dough
30
minutes
Ingredients
300

g

plain flour/ white rye flour/ white spelt flour

more for dusting your work surface

200

g

unsalted butter

cold and cubed

100

g

icing sugar

137

g

pumpkin puree

see notes below

2

egg yolks

1

tsp

cinnamon

zest of 1/2 orange

optional
Instructions
Put all the ingredients in a bowl of food processor and pulse gently until they turn into smooth and silky, orange dough. Turn out onto the kitchen counter, divide dough in half and shape into two flat disks. Wrap them in cling film and put in the fridge for minimum 30 minutes (a bit longer would be even better).

If you don't have food processor simply sieve your flour, icing sugar and cinnamon into a large bowl and add cold and cubed butter. Rub the butter and flour mixture together with your fingers until they start looking like breadcrumbs. Add remaining ingredients and mix them in with your hand, kneading gently until you reach smooth and silky, orange dough consistency. Proceed as per instructions above.

After the dough has had time to chill, take it out of the fridge and onto the floured kitchen surface. Roll it out to the thickness of pound coin and cut the cookie shapes using the cutter of your choice. Re-roll the remaining dough and repeat until you've used up all the dough.

Bake your cookies on the baking sheet lined with baking parchment in the oven preheated to 170C/325F/Gas Mark 3 for approx 20 min (keep an eye on them from 15 min on just in case your oven is slightly unpredictable).

Transfer baked cookies onto cooling rack and repeat with the remaining ones. Wait for them to cool and enjoy!
Notes
Calories are approximate and per cookie/biscuit.
Make sure you use really dry pumpkin puree for this bake. The less moisture the more crunchy and melt in your mouth final result.
Nutrition
Nutrition Facts
Crunchy Pumpkin Cookies
Amount Per Serving (0 g)
Calories 83
Calories from Fat 36
% Daily Value*
Total Fat 4g 6%
Cholesterol 22mg 7%
Sodium 1mg 0%
Potassium 18mg 1%
Total Carbohydrates 9g 3%
Protein 1g 2%
* Percent Daily Values are based on a 2000 calorie diet.
Make sure you stay up to date with all the latest recipes from Jo's Kitchen Larder
Have you tried my Crunchy Pumpkin Cookies? Leave a comment at the bottom of this post, I love reading them! You can also come and say hello over on my Facebook page, Twitter, Instagram or Google+
Pin Crunchy Pumpkin Cookies for later!
I'm linking my Crunchy Pumpkin Cookies recipe with the following pages:
Cook Blog Share hosted this week by Cat at Curly's Cooking
Cook Once Eat Twice hosted by Corina at Searching for Spice
Fiesta Friday hosted by Angie, Antonia at Zoale.com and Laurena at Life Diet Health
Bake of the Week hosted by Helen at Casa Costello and Jenny at Mummy Mishaps
Related products from Amazon*
*This post contains affiliate links, which means that if you click on a link and go on to buy the product I recommend, I will get a small commission, but you will not be charged a penny more. I only recommend products I own or really like and which caught my attention. Thanks in advance for supporting Jo's Kitchen Larder!