I haven't really blogged many Polish recipes since I started Jo's Kitchen Larder but today's recipe is one of them and it is a gem! Sweet Blueberry Buns with Lemon Glaze, called Jagodzianki in Polish are well known and truly loved treat.
Funnily enough I cannot say it's something I grew up eating a lot of as my mum (despite being fabulous cook and baker) never really got on with any bakes involving yeast. I hope she won't mind me saying that lol. I did manage to get my greedy paw on occasional blueberry bun though thanks to local bakeries! Sweet, enriched dough filled with fresh blueberries and finished off with tangy lemon glaze. So delicious!
Traditionally they used to be made with Polish wild blueberries which tend to be smaller and I also remember them as slightly sweeter than the ones we buy in the UK but I've been using the ones I can get here.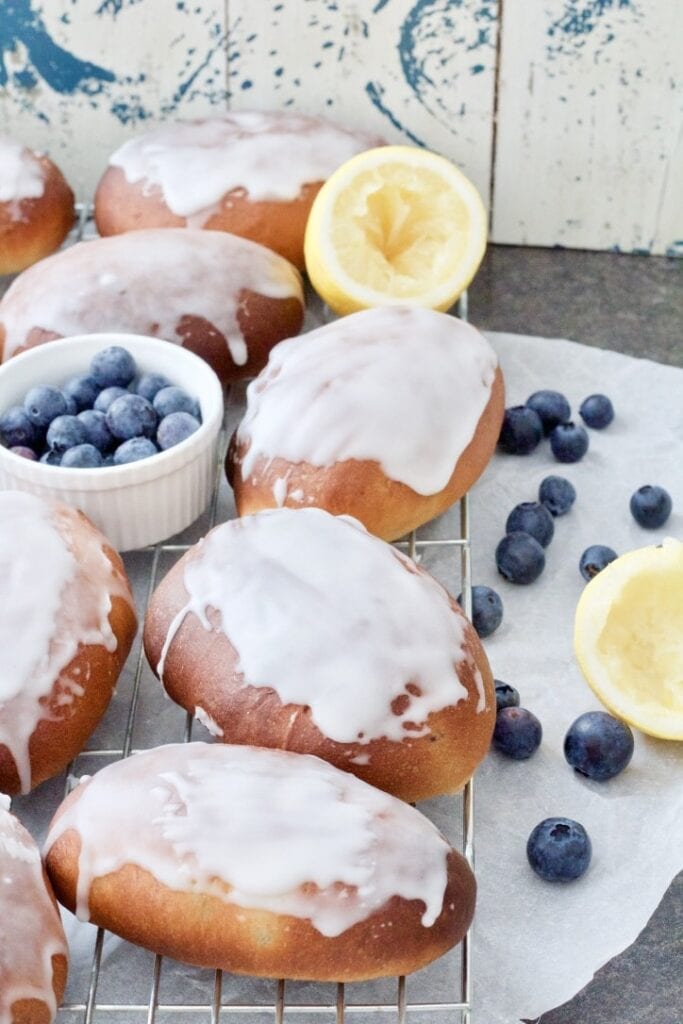 I have been making my own Sweet Blueberry Buns with Lemon Glaze for good few years now, trying out different recipes, tweaking them and this one is the one that I stuck with and use all the time now. It's definitely not a quick bake with all the kneading, double proving, filling and shaping but I promise you it is so worth the effort!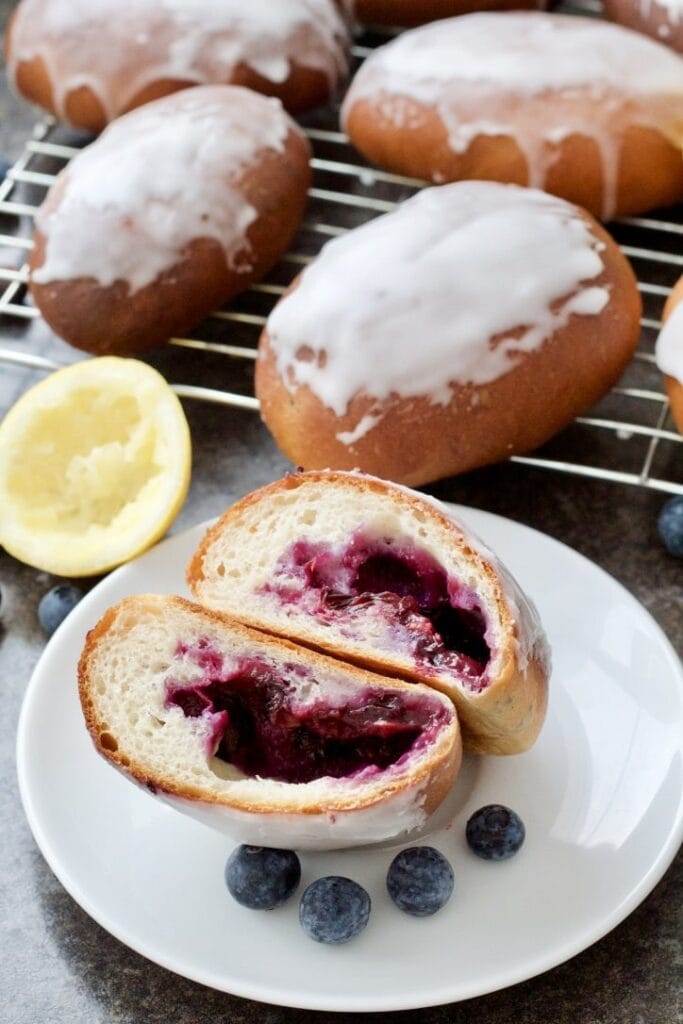 These buns are perfect as weekend breakfast treat or part of afternoon tea. They are super portable so can be taken to picnics and are loved by everybody so won't hang around for long. They are absolutely the best on the day you bake them but will also taste good the following day. I will have one still warm without the glaze every single time (cook's perk) to check for quality of the bake of course. 🙂 This recipe yields 16 buns so it's best to make them when you know you will have mouths to feed but you can also freeze these little guys (without the glaze) and defrost them on the kitchen counter as and when you want them.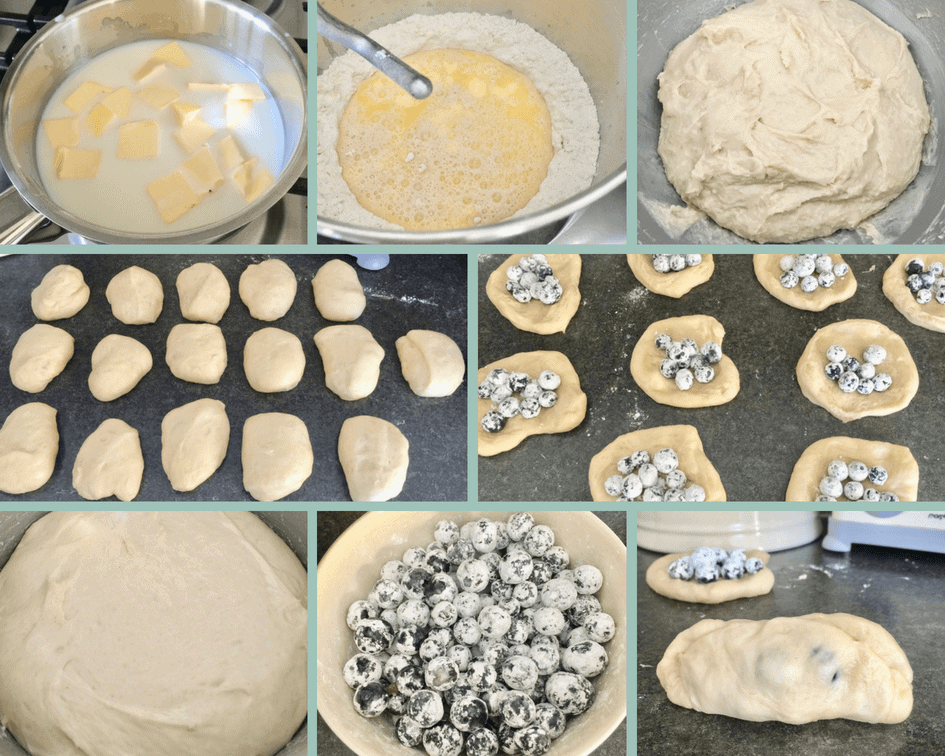 If baking with blueberries is your thing than you must try these Blueberry Scones with Lemon Glaze, they are a step up from traditional English scones and oh so delicious. Staying in berries territory I would also highly recommend couple of my other bakes like these White Chocolate & Almond Blondies with Raspberries or this Easy Strawberry Yogurt Cake, both recipes being seasonal delights and very easy to make too!
Sweet Blueberry Buns with Lemon Glaze
Sink your teeth into soft and sweet blueberry deliciousness that mixes perfectly with lemony tang from the glaze! Whether it's indulgent breakfast, afternoon tea, picnic or just a snack, these buns will hit the spot!
Ingredients
550

g

strong white bread flour

1

7g

sachet dried yeast

250

ml

milk

2

large eggs

lightly beaten

100

g

unsalted butter

cubed

100

g

vanilla sugar or caster sugar

generous pinch of salt
Blueberry filling
300

g

blueberries

2

Tbsp

icing sugar

1

Tbsp

corn flour
Lemon Glaze
130

g

icing sugar

2

Tbsp

lemon juice
Instructions
Make sure all ingredients are at room temperature. Pour in milk into small saucepan and add cubed butter. Heat it up very gently and slowly until milk is warm and butter is almost melted (it doesn't have to be melted completely but well softened). Set aside.

Prepare your dried ingredients by adding flour, salt, sugar and yeast into the bowl of your food processor (if you are using one) or just a regular bowl. Mix it slowly using a dough hook on your food processor or by hand until all the ingredients are combined. Add warmed milk and butter into your dry ingredients and keep mixing slowly while adding eggs.

Let your food processor knead the dough on a medium speed for good 10-15 min until it becomes soft and elastic. If you are kneading by hand I would allow good 15 minutes kneading time. It is normal for the dough to be slightly sticky but towards the end of kneading it should become easy to work with. If it's not add a bit more flour but be careful not to add too much.

Let the dough prove in a bowl covered with tea towel or clingfilm until it doubles in size (approx. 1-1.5hrs). Prepare your filling by washing and gently drying blueberries and mixing them up with icing sugar and cornflour. Be very gentle when mixing them as you don't want them to burst.

Once the dough finished proving, give it a quick punch to deflate it and turn it out onto the counter. Divide it into 4 roughly equal parts and then each of them into 4 roughly equal in size pieces. Don't worry too much if they are not exactly the same size (mine never are!).

Flatten all pieces of dough and divide prepared blueberry mixture in between all of them. Seal each one of the buns really well as if you were sealing a dumpling (sort of a crescent shape) and shape them gently in your hands to form a roll. Place seam side down on prepared baking tray. Repeat with all the other rolls. Once filled, let the rolls prove again on baking trays for approx 20-30 min (covered with clean tea towel). They should puff up a bit but won't double in size.

Bake in the oven preheated to 180C/350F/gas mark 4 for approx 15 min until nicely browned. You might have to bake them in batches due to the number of buns. Once baked take them out onto the cooling rack and let them cool completely before icing.

Prepare the lemon glaze by mixing icing sugar with lemon juice to reach desired consistency and brush or spoon gently over cooled buns. Best eaten on the day when baked but will still be tasty the following day.
Notes
If you don't have vanilla sugar you can add 1 tsp of vanilla paste or extract or seeds scraped out from half vanilla pod. Check out this post for details on how to make your own vanilla sugar.
The quantities of icing sugar and lemon juice for lemon glaze in this recipe will give you quite a thick glaze. Feel free to play with quantities to achieve different thickness as per your liking.
You could use frozen blueberries (without defrosting) but bare in mind that second prove might take longer due to cold filling. 
Nutrition
Nutrition Facts
Sweet Blueberry Buns with Lemon Glaze
Amount Per Serving (0 g)
Calories 0
% Daily Value*
Total Fat 0g 0%
Cholesterol 0mg 0%
Sodium 0mg 0%
Potassium 0mg 0%
Total Carbohydrates 0g 0%
Protein 0g 0%
* Percent Daily Values are based on a 2000 calorie diet.
Make sure you stay up to date with all the latest recipes from Jo's Kitchen Larder

Have you tried my Sweet Blueberry Buns with Lemon Glaze? Leave a comment at the bottom of this post, I love reading them!
You can also come and say hello over on my Facebook page, Twitter, Instagram or Pinterest
Pin For Later!
I'm linking my Sweet Blueberry Buns with Lemon Glaze with the following pages:
Cook Blog Share hosted by Eb at Easy Peasy Foodie and Kirsty at Hijacked By Twins
Cook Once Eat Twice hosted by Corina at Searching for Spice
Brilliant Blog Posts hosted by Vicki at Honest Mum Blog
Recipe of the Week hosted by Emily at A Mummy Too
Bake of the Week by Helen at CasaCostello and Jenny at MummyMishaps
World-Food Linky hosted by Jess at Jess Eats and Travels
Fiesta Friday hosted by Angie and Jhuls at The Not So Creative Cook