These delicious Smoked Paprika Roasted Pumpkin Seeds came about as a by-product when preparing my Easy Homemade Pumpkin Puree I shared with you not so long ago. I hate wasting things and throwing these perfect little snacky seeds out would be a crime especially that they are soo easy to roast and turn into perfect nibble.

Whether you are keen pumpkin eater or not you will most likely gut and carve at least one of these gorgeous vegetables in preparation for Halloween! 🙂 Don't get put off by the looks of the pumpkin seeds covered in stringy innards as they are really easy to clean (even though they don't look it) lol.
I found that the best way to get them "innards free" is to pop them in a bowl and cover with cold water. Give them a bit of a quick mix and wash with your hands and leave alone for couple of minutes. You will see that pumpkin seeds will float to the surface and bits of innards will sink to the bottom. All you then need to do is to fish out the seeds with the slotted spoon and pop them on a tea towel. They will stick but do not get disheartened and once you've pat them dry simply scrape them off with your fingers onto the baking tray and you are ready to go!
My choice of seasoning here was my all time favourite spice – smoked paprika (any excuse to use it really). I also thought that adding a little bit of cayenne pepper would be nice for an extra kick. Feel free to leave it out if you want.
The amount of the spices specified in the recipe is what I've used for roasting. I have then added additional sprinkle of both smoked paprika and cayenne to suit our taste so feel free to do that too. I have also chosen to season the seeds with sea salt after roasting and found that it worked really well.
This recipe is a perfect canvas for playing with your favourite flavours. Perhaps instead of smoked paprika and cayenne you prefer more herby flavours. Rosemary and sea salt would work absolutely lovely here and so would sprinkle of curry powder of your choice if that's what you fancy.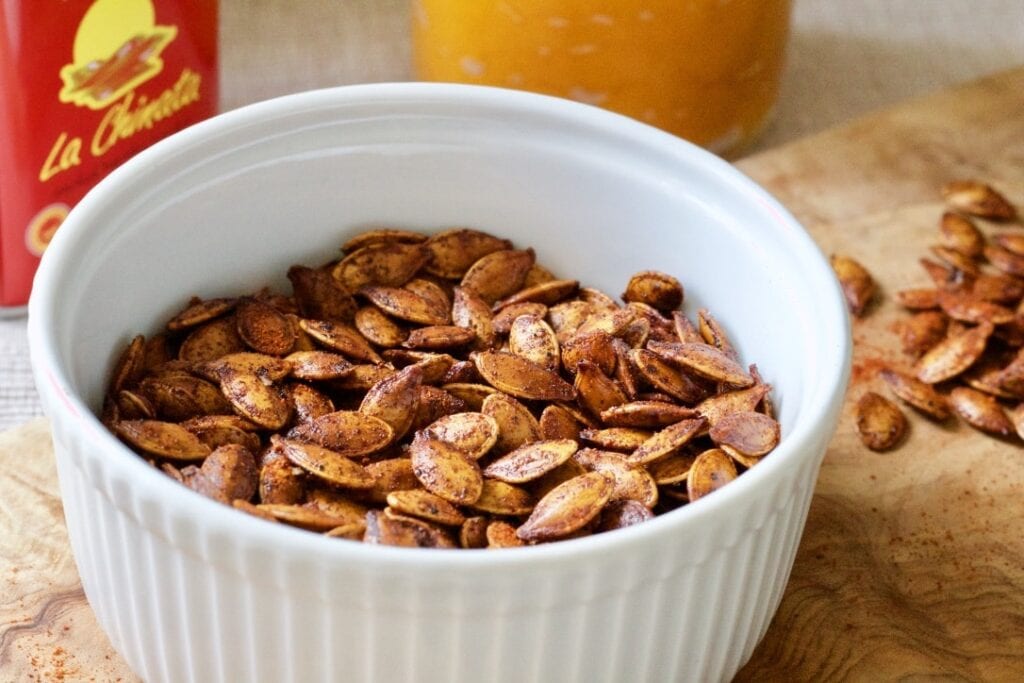 You will find more Snack recipes here.
Smoked Paprika Roasted Pumpkin Seeds
Ingredients
Pumpkin seeds

washed and lightly dried - the amount might vary depending on the size of your pumpkin.

1

Tbsp

olive or sunflower oil

1

Tbsp

smoked paprika

1

tsp

cayenne pepper

for some gentle heat

sea salt
Instructions
Wash pumpkin seeds in a bowl of cold water, the bits of pumpkin innards will separate from the seeds and sink to the bottom of the bowl.

Fish the pumpkin seeds out with the slotted spoon and dry on the tea towel. Pumpkin seeds will stick a bit but simply pat them dry and scrape them off onto prepared baking sheet.

Pour olive oil over the seeds and sprinkle both spices. Mix well until all the seeds are covered.

Bake in 180C for approx 30 minutes. Every 10 minutes take the pan out and move seeds around with spatula.

Once baked season with sea salt and adjust amount of smoked paprika and cayenne pepper to your liking.

Enjoy!
Pin For Later!
I'm linking my Smoked Paprika Roasted Pumpkin Seeds with the following pages:
Cook Blog Share hosted this week by Jacqui from Recipes Made Easy and by Monika at Everyday Healthy Recipes
Brilliant Blog Posts hosted by Vicki at Honest Mum Blog
Recipe of the Week hosted by Emily at A Mummy Too
Simple and in Season hosted by Katie at Feeding Boys