Brussels Sprouts! You either love them or hate them, very much like good old Marmite! I'm definitely in "love them" camp but more so since I've started roasting these little fellows. Difference in flavour is really big plus flavour enhancement possibilities endless. And who likes watery, bland and flavourless sprouts anyway? Well, not me and you won't find them here. Instead I present you my Roasted Brussels Sprouts with Parmesan & Garlic!
This recipe is super simple and the end result is really delicious. These sprouts are perfect as a side dish and go lovely with any type of roast meat or veggie roast too! Believe you me, once you've tried roasted sprouts it will be difficult to go back to boiled or even steamed version. The breadcrumbs provide a bit of unexpected crunch which I love!
When it comes to quantities, it is usually myself and hubby devouring the content of this baking dish (kids aren't keen on sprouts). However, if you are less greedy it will most likely serve 4 (please don't judge).
Can I adapt these roasted brussels sprouts in any way?
The parmesan, breadcrumbs and garlic might not be particularly festive but I like them this way and would happily include them as a side dish on my Christmas table. By all means sprinkle some crisped up and finely chopped pancetta or even chopped chestnuts for extra festive flare, I won't mind and won't tell. However, I can assure you these are perfect just like that so perhaps you can save the bacon for pigs in the blankets. 😉
Also feel free to adjust the quantities of both garlic and parmesan cheese according to your liking. I find that one plump garlic clove does the trick here but by all meant add more, same with cheese!
Roasted Brussels Sprouts with Parmesan & Garlic
Roasted Brussels Sprouts with Parmesan & Garlic are a game changer. If you are a sprouts fan already you will love this roasted, garlicky, cheesy version for sure. Perfect Christmas or Thanksgiving veggie side dish.
Ingredients
500

g

brussels sprouts

1

garlic clove

peeled and very thinly sliced

1-2

Tbsp

breadcrumbs

3-4

Tbsp

parmesan cheese

or any other hard cheese to grate over the sprouts

2-3

Tbsp

olive oil

salt & pepper
Instructions
Preheat your oven to 180C/350F/Gas Mark 4.

Prepare brussels sprouts by cutting off the woody ends (especially when they are long and sticking out a bit). If there are any woody or bruised outer leaves, feel free to discard them otherwise leave them.

Cut larger sprouts in half lengthwise leaving smaller ones whole and put them in a baking dish.

Sprinkle them with salt, freshly ground pepper and breadcrumbs, add thinly sliced garlic clove.

Pour over a good glug of olive oil and give everything a little mix and toss with your hands. Roast in a preheated oven for approx 20-30 min (until tender). Timings will depend on the size of your sprouts. Test them for doneness at 20 min by simply inserting a sharp knife in one of the bigger sprouts. If it goes in easily, they are ready!

Take the brussels sprouts out of the oven and give them a little mix. Grate as much parmesan as you like and sprinkle it over the sprouts. Return them into the oven for the cheese to melt and create lovely, almost lacy topping.

Perfect as a side dish with any meat or veggie roasts!
Notes
Nutritional information is approximate, per serving and meant as a guideline only.
Feel free to adjust the amount of parmesan cheese as you see fit, same with garlic! 
Nutrition
Nutrition Facts
Roasted Brussels Sprouts with Parmesan & Garlic
Amount Per Serving (0 g)
Calories 141
Calories from Fat 72
% Daily Value*
Total Fat 8g 12%
Cholesterol 2mg 1%
Sodium 109mg 5%
Potassium 486mg 14%
Total Carbohydrates 13g 4%
Protein 5g 10%
* Percent Daily Values are based on a 2000 calorie diet.
Have you tried my Roasted Brussels Sprouts with Parmesan & Garlic? Leave a comment at the bottom of this post, I love reading them! You can also come and say hello over on my Facebook page, Twitter, Instagram or Google+
Make sure you stay up to date with all the latest recipes from Jo's Kitchen Larder
Some more recipes you might enjoy:
Brussels Sprouts, Bacon & Chestnuts Macaroni Cheese
Easy Roasted Butternut Squash Veggie Wellington.
Pin Roasted Brussels Sprouts with Parmesan & Garlic for later!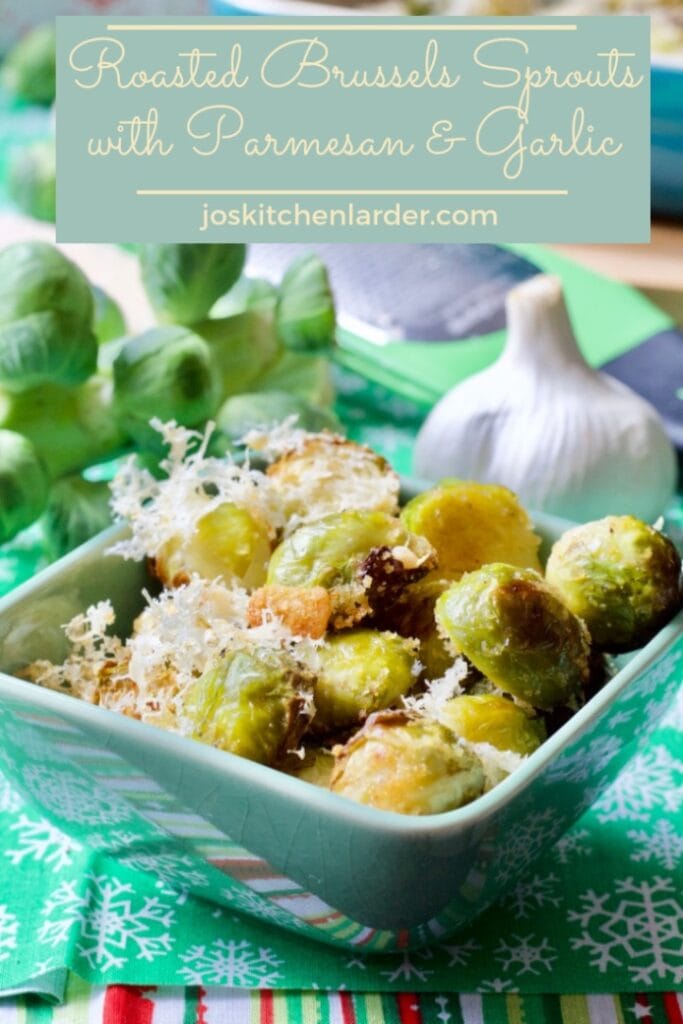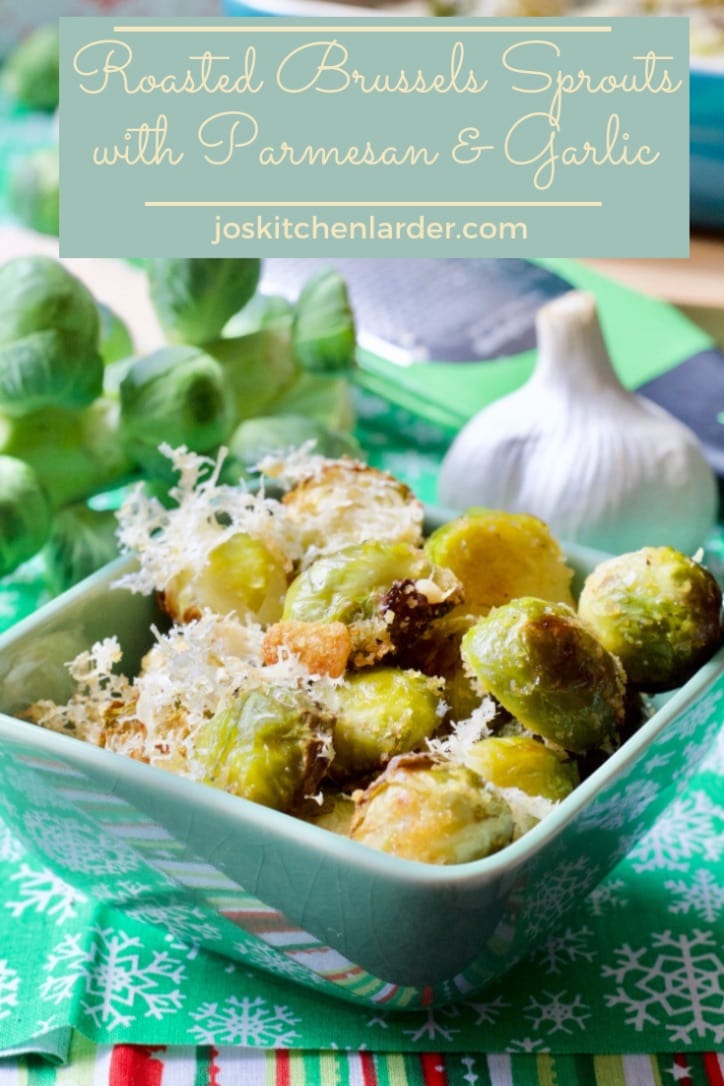 I'm linking my Roasted Brussels Sprouts with Parmesan & Garlic with the following pages:
Cook Blog Share hosted this week by Eb at Easy Peasy Foodie and Kirsty at Hijacked By Twins
Brilliant Blog Posts hosted by Vicki at Honest Mum Blog
Recipe of the Week hosted by Emily at A Mummy Too
Cook Once Eat Twice hosted by Corina at Searching for Spice
***This post has been first published in December 2017 and updated in November 2018***