Macaroni & Cheese is one of those wonderfully comforting, almost coma inducing dishes that make me very happy. I have been making it for my family for years and we all love it. I have created many different variations of mac'n'cheese usually adding different chunky veggies to boost our veggie intake. However, I have never tried it with veggie puree and what better puree to try it with than the pumpkin one to make Pumpkin Macaroni & Cheese?

This recipe is not complicated at all although it takes a bit of planning to get your pumpkin puree ready. Take a look at my guide to making your own pumpkin puree here. If you have some already frozen or prefer to use tinned one, by no means feel free.
To add that bit more flavour here I have thrown two unpeeled garlic cloves onto the tray to bake together with my pumpkin. Once roasted you simply squeeze them out of their skins and puree with the pumpkin. It works beautifully as garlic retains lovely, almost sweet flavour without all the harshness. If you've got puree already made and you don't want to turn on the oven for the sake of roasting two garlic cloves (I don't blame you), you could infuse the milk you will be using for your cheese sauce. Simply pour the milk into the saucepan and add two (peeled) garlic cloves and bring it (almost) to boil. Turn it off and let it sit for few minutes (the longer the better). Fish the garlic out and use the infused milk as you would per recipe below. Alternatively, you can leave garlic out.
I have gone for fresh thyme as my main herb to pair with the pumpkin but you could use fresh sage which works beautifully although my kids are not fans. The pumpkin I've used here was rather small and only yielded approx 250g puree but by no means use more than that. I think anything up to 400g would be fine without macaroni & cheese losing what it's loved for – it's cheesiness 🙂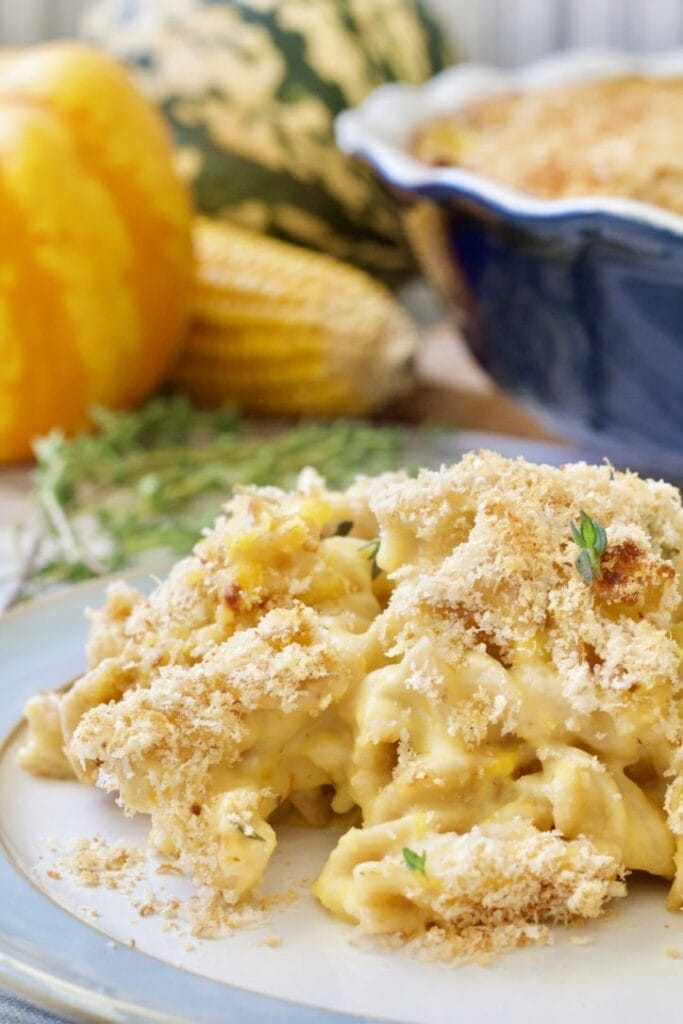 Some more recipes you might enjoy:
Pumpkin & Cinnamon Muffins with Plum Jam
Pumpkin & Plum Conserve Steamed Pudding
Smoked Paprika Roasted Pumpkin Seeds
Brussels Sprouts, Bacon & Chestnuts Macaroni Cheese
And now to the recipe for Pumpkin Macaroni & Cheese itself.
Pumpkin Macaroni & Cheese
Ingredients
300

g

whole wheat fusilli or any pasta of your choice

250-400

g

pumpkin puree

depending on size of your pumpkin

50

g

unsalted butter

50

g

plain flour

500

ml

milk

200

g

mature cheddar cheese

grated

2

garlic cloves roasted in their skins

optional

1

tsp

mustard powder or English mustard

grating of fresh nutmeg

salt & pepper
Topping
30

g

regular or panko breadcrumbs

30

g

parmesan cheese

grated
Instructions
Start with roasting your pumpkin to make puree. You can find recipe

here

. Pop garlic cloves in the baking tin together with pumpkin to roast (if using). Once roasted squeeze them out of their skins and puree together with the pumpkin.

Boil large pan of salted water and cook pasta according to packet instructions or couple of minutes less for more al dente version (it will cook some more in the oven).

To prepare your cheese and pumpkin sauce melt butter on a low heat and add flour mixing vigorously until you got paste like consistency (roux). Add milk, mustard powder, grating of nutmeg and thyme leaves (stripped off the stalks) and mix gently over low heat until mixture starts to thicken. Next add grated cheddar cheese and mix it in. Season well with salt and pepper.

Add pumpkin puree to the cheese sauce and mix until well combined.

Add cooked pasta to the sauce and mix well until sauce coats all of the pasta.

Pour onto prepared, buttered dish.

Prepare the topping by mixing breadcrumbs with grated parmesan. Sprinkle over the pasta and bake at 180C for approx. 20-30min until golden and bubbly.

Enjoy with some green salad and crusty baguette if you wish.
Pin For Later!
I'm linking my Pumpkin Macaroni & Cheese with the following pages:
Cook Blog Share hosted this week by Monika at Everyday Healthy Recipes and Eb at Easy Peasy Foodie
Cook Once Eat Twice hosted by Corina at Searching for Spice
Brilliant Blog Posts hosted by Vicki at Honest Mum Blog
Recipe of the Week hosted by Emily at A Mummy Too
Simple and in Season hosted by Katie at Feeding Boys