Further to my little guide on How to Make Classic Pancakes comes this divine recipe for Pancakes (Crepes) with Mascarpone Cream & Cranberry Compote. It is an easy yet very impressive treat not only for Pancake Day but also sweet breakfast or brunch, Valentine's Day dessert or simply "just because"!

I absolutely love this gorgeous dessert! Once you've made your pancakes and are full of lemon and sugar version or even the ones with my delicious lemon curd, you've got to give these a go.
The great thing about them is that they literally take no time whatsoever especially if you use the pancakes and fruit compote you've made earlier. Filling takes only minutes to prepare and pan frying doesn't take long time at all before you can enjoy these gorgeous, soft parcels of deliciousness filled with sweet vanilla mascarpone and topped with slightly tart cranberry compote. Heaven! I've used my delicious Cranberry Compote with Rosemary to serve with my pancakes but any fruit compote with a bit of tang will do here or even simple jam!
Mascarpone cream filling is a doddle to make and is absolutely delicious with wonderful hint of vanilla going through. I have used my homemade vanilla sugar but you can simply add some vanilla extract or seeds scraped out of the vanilla pod to your standard caster sugar instead. However, for those interested in making your own vanilla sugar, here is a little guide.
Vanilla Sugar How-To!
If you are just starting take one vanilla pod, split it in half, scrape all the lovely seeds out of both halves and pop them together with a pod itself onto a glass jar (rather large) which you then half fill with caster sugar. Give it a bit of a mix and shake and that's it. All you need to do from now on is to pop any "used" woody vanilla pods you use for baking, desserts etc. onto the jar and add some more sugar. You add, you use, add, use, as simple as that! 🙂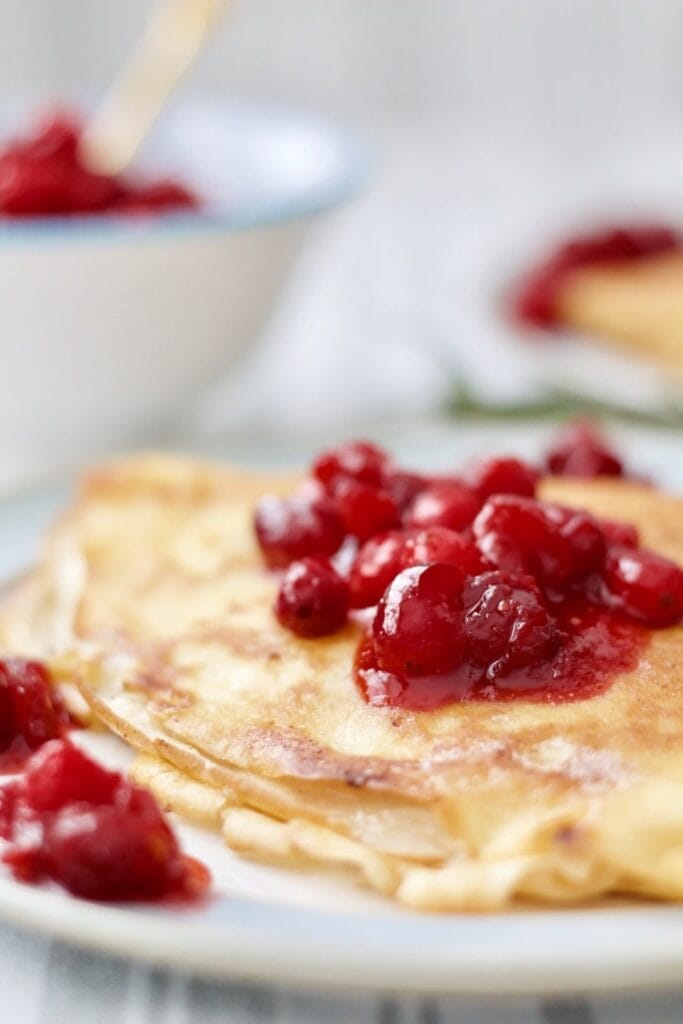 Really good thing about these pancakes is that they can be prepared well in advance (filled and folded) and stored in the fridge until it's time to fry. That makes them perfect for when you're entertaining or even to have ready in the fridge for when the family demands something sweet. 🙂 So next time you are making pancakes (crepes) make sure you make more than you need just to be able to make this dessert and I hope you like it as much as we do!
If pancakes are your guilty pleasure, try my American style Easy Healthier Pumpkin Pancakes which would be a delicious alternative!
Pancakes (Crepes) with Mascarpone Cream & Cranberry Compote
Ingredients
8-10 Pancakes (find recipe HERE)
250g Mascarpone or Mascarpone Light
4 Tbsp Vanilla Sugar or caster sugar +1 tsp vanilla extract or seeds out of 1 vanilla pod
1 egg yolk (optional)
some unsalted butter or ghee for frying
Instructions
Make pancakes as per recipe link above.
Put mascarpone, vanilla sugar and egg yolk into a bowl and mix together until smooth with hand blender or wooden spoon.
Spread generous tablespoon of mascarpone cream onto each pancake and fold in half and in half again to form a triangle shape.
Fry in butter on both sides until warmed up and golden.
Serve warm with fruit compote!
Enjoy!
https://joskitchenlarder.com/pancakes-crepes-mascarpone-cream-cranberry-compote/
Have you tried my Pancakes (Crepes) with Mascarpone Cream & Cranberry Compote recipe? Leave a comment at the bottom of this post, I love reading them!
If you don't want to miss new recipes and updates from me make sure to subscribe to new recipe alerts in the top right corner of this page or come and say hello over on my Facebook page, Twitter or Instagram
Pin For Later!
I'm linking my Pancakes (Crepes) with Mascarpone Cream & Cranberry Compote post with the following pages:
Cook Blog Share hosted this week by Kirsty at Hijacked by Twins and Eb at Easy Peasy Foodie
Cook Once Eat Twice hosted by Corina at Searching for Spice
Brilliant Blog Posts hosted by Vicki at Honest Mum Blog
Recipe of the Week hosted by Emily at A Mummy Too
Baking Crumbs hosted by Angela at Only Crumbs Remain