It's that time of year again and here I am with my first festive recipe this season! I simply can't imagine December without mince pie or two (or more like a dozen)! They are my guilty treats responsible for a roll or two added to my midriff by the time the New Year is here full of dietary resolutions. As much as I love regular mince pies, this time I decided to tinker with the pastry to see whether there is room for improvement and that resulted in my Melt In Your Mouth Almondy Mince Pies!
For somebody like myself who cannot stand Christmas Cake or Pudding (I quite like the idea of flambéing the latter but that really is it!), the love for mince pies might seem rather odd. It is and it isn't… It's all about the pastry you see. I'm a huge pastry fiend and the crumblier and more buttery the better. I also love almonds and use them in baking a lot so combining my love for all things pastry and almondy resulted in the best almond shortcrust pastry ever!
Every year I make my own mince pies as it's a Christmassy thing to do plus if I am to consume a lot of calories, they must be worth it!
This year after my pastry recipe alterations, I could not be happier! Dare I say I absolutely nailed it! Some more butter and ground almonds later and here you go – Melt In Your Mouth Almondy Mince Pies! Make sure you use the best possible sweet mince meat with your pies! If you've got your own tried and tested recipe you've used for years – that's even better!
They really are a doddle to make but the little effort you will put in will be rewarded by most crumbly, buttery, slightly almondy parcels of joy you could image! Would love to hear what you think!
Making ahead / freezing advice
Mince pies are perfect Christmas treats to make ahead. You can freeze them unbaked in their tray and covered tightly with clingfilm and some aluminium foil. Bake from frozen as per recipe below, allowing additional 5 minutes baking time.
You can also freeze baked pies (without icing sugar). Simply put them in a plastic container with a lid. If your container is quite tall, pop your mince pies in layers separated with some baking paper. When you are ready to eat simply defrost them on the counter top and warm them up in the oven heated up to 180C/350F/Gas Mark 4 for 5 minutes.
Whichever way you choose, your mince pies can be frozen for up to 3 months.
Melt In Your Mouth Almondy Mince Pies
These Melt In Your Mouth Almondy Mince Pies are just what they says on the tin! Almond shortcrust pastry makes them simply irresistible and even more festive! They are so easy to make too!
PLUS Dough Chilling Time
15
minutes
Ingredients
225

g

plain flour

pinch

of salt

50

g

ground almonds

200

g

unsalted butter

chilled and cubed

70

g

caster sugar

1

egg yolk

Quality mince meat of your choice

milk for brushing

optional

icing sugar to serve
shallow tart tray and plain round cutter approx 68mm
Instructions
Put flour, sugar, salt and ground almonds in your food processor and press pulse button few times to combine.

Add cubes of chilled butter and mix until texture starts resembling breadcrumbs. Add egg yolk and keep mixing until the dough comes together almost in a ball.

Take it out onto the kitchen counter and flatten into a disc, cover in cling film and chill for about 10-15 minutes.

If you don't have food processor simply mix all the dry ingredients in a large bowl, add chilled, cubed butter and mix with your fingers until you get to crumbs like consistency. Add egg yolk and keep on mixing with your hands until dough starts coming together. Flatten it into a disc, cover in cling film and chill as above.

Butter shallow tart tray and preheat the oven to 180C/350F/gas 4.

Roll out your pastry on a floured surface and cut out 12 rounds which you then press into each hole in your tart tray. Make sure you press gently on the sides of each pastry round to get rid of any air bubbles. Cut out another 12 rounds that will serve as lids.

Put approx 1 heaped tsp of mince meat in the centre of each of the pastry cases and cover these with the remaining pastry rounds pressing gently on the edges to seal.

Brush gently with some milk and using sharp knife make two tiny vents on the top of each pie.

Bake for 20-25 minutes until golden.

Let the pies cool in a tray for a few minutes which will make them easier to remove. Pop them onto a wire rack to cool completely. Serve dusted with icing sugar or however your heart desires!

Enjoy!
Notes
Nutritional information is approximate, per serving and meant as a guideline only.
Nutrition
Nutrition Facts
Melt In Your Mouth Almondy Mince Pies
Amount Per Serving (0 g)
Calories 253
Calories from Fat 144
% Daily Value*
Total Fat 16g 25%
Cholesterol 52mg 17%
Sodium 30mg 1%
Potassium 24mg 1%
Total Carbohydrates 24g 8%
Protein 3g 6%
* Percent Daily Values are based on a 2000 calorie diet.
Make sure you stay up to date with all the latest recipes from Jo's Kitchen Larder
Some more recipes you might be interested in:
Best Buttery Apple Pie with a Twist
Italian Plum & Almond Cake with Amaretti Crunch
Easy Chocolate Gingerbread Biscuits
Have you tried my Melt In Your Mouth Almondy Mince Pies? Leave a comment at the bottom of this post, I love reading them! You can also come and say hello over on my Facebook page, Twitter, Instagram or Google+
Pin Melt In Your Mouth Almondy Mince Pies For Later!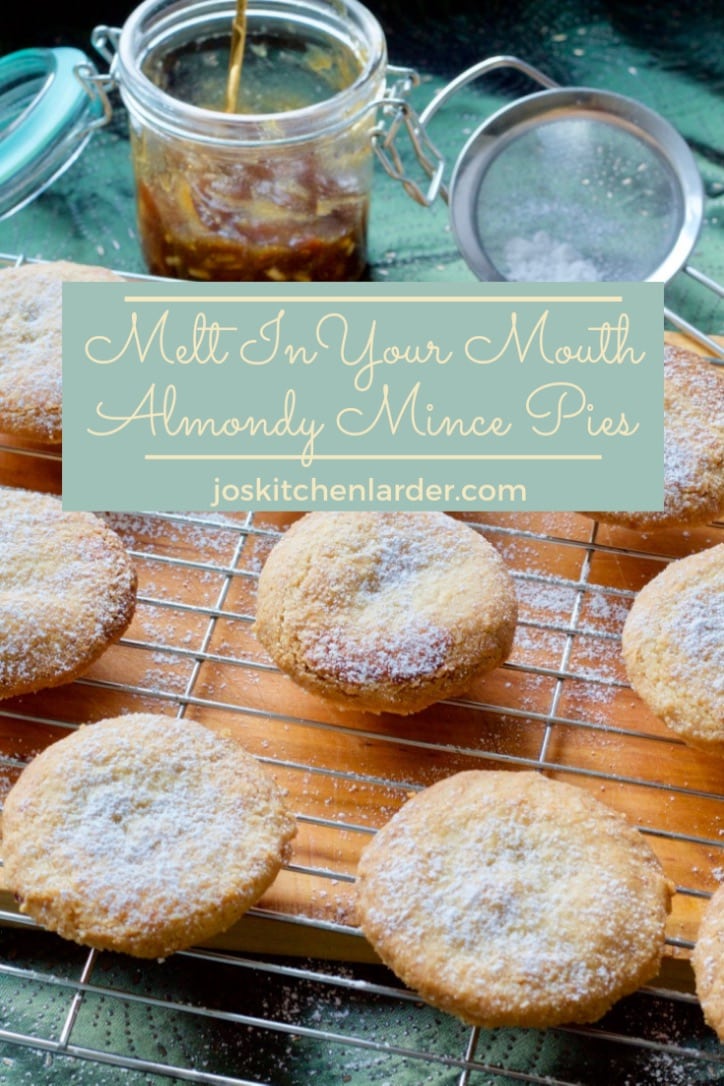 I'm linking my Melt In Your Mouth Almondy Mince Pies with the following pages:
Cook Blog Share hosted this week by Kirsty at Hijacked By Twins and by Jackie at Recipes Made Easy
Brilliant Blog Posts hosted by Vicki at Honest Mum Blog
Recipe of the Week hosted by Emily at A Mummy Too
Baking Crumbs hosted by Angela over at Only Crumbs Remain
Cook Once Eat Twice hosted by Corina at Searching for Spice
Bake of the Week by Helen at CasaCostello and Jenny at MummyMishaps
***This post was first published in December 2017 and updated on 15 November 2018***