My recipe for Leek, Potato and Celeriac Soup is one of those recipes you think to yourself, should I share it or not? Surely, most people out there can prepare this quick delight or can they? I have been using this particular recipe for as long as I can remember. Actually, I had to have a good think to write everything down as I cooked it. This particular batch was enhanced with a bit of celeriac root I had leftover. I needed it for something else and remaining bit was starting to look a little sad. I'll just add it to the soup, shall I? What could possibly go wrong? 🙂
Clearly nothing went wrong as I decided to be brave enough to share it with you dear readers. 🙂 The only thing worth noting is that it is not a soup for you if you do not like flavour of celeriac as despite adding only a smallish piece, its flavour really comes through. That really is the only warning, I promise you. 🙂 Anyways, if celeriac is not your thing, simply leave it out.
Don't be to hung up on the quantity of veg. I suggested 2 medium leeks and potatoes, no need to use scales. If your veg is slightly larger and you might need a bit more liquid, go for it. Add splash more of stock/water, adjust seasoning and I'm sure your soup will be lovely. Soup making is not baking (pardon unintentional rhyme here), you don't need to be super precise to get wonderful results. I encourage you to go for it and make this Leek, Potato and Celeriac Soup your own!
It really is a wonderful, tasty, warm your cockles, soothe your soul kind of soup and I hope you like it as much as I do. Thank you for stopping by and please do leave a comment as I'd love to know what you thought about my recipe.
Bon Appetit!
Leek, Potato and Celeriac Soup
Ingredients
2

medium leeks

2

medium potatoes

half small celeriac root

small knob of unsalted butter

1.2

litres vegetable stock

cube is fine

1

heaped Tbsp creme fraiche

salt

pepper to taste

chives and croutons to serve
Instructions
Start with preparing your veg.

Discard the very top of the leeks (dark green part). Halve and clean your leeks thoroughly, getting rid of all the grit. Slice thinly.

Peel, wash and cube potatoes.

Peel wash and cube celeriac.

Melt butter in a large pan. Add prepared leeks and cook until softened but not coloured (about 5 min).

Add potatoes and celeriac and continue cooking for another 2-3 min.

Add stock, bit of salt and pepper and cover.

Simmer until all the veg, especially celeriac (which takes the longest) is tender.

Take the soup off the hob and puree to desired consistency using hand blender. I like it really smooth and silky but you may want some texture to it.

Add creme fraiche, adjust seasoning and quickly blend again.

Serve sprinkled with chopped chives and some croutons.

Enjoy!
Nutrition
Nutrition Facts
Leek, Potato and Celeriac Soup
Amount Per Serving (0 g)
Calories 0
% Daily Value*
Total Fat 0g 0%
Cholesterol 0mg 0%
Sodium 0mg 0%
Potassium 0mg 0%
Total Carbohydrates 0g 0%
Protein 0g 0%
* Percent Daily Values are based on a 2000 calorie diet.
Some more seasonal soup inspiration:
Instant Pot Ginger Spiced Beetroot Soup
Instant Pot Creamy Cauliflower Cheese Soup
If you are soup lover and maker and not vegetarian you might want to make your own chicken stock too. Feel free to check out my guide on How To Make Chicken Stock in Instant Pot (with instructions for hob/stovetop users too).
Pin For Later!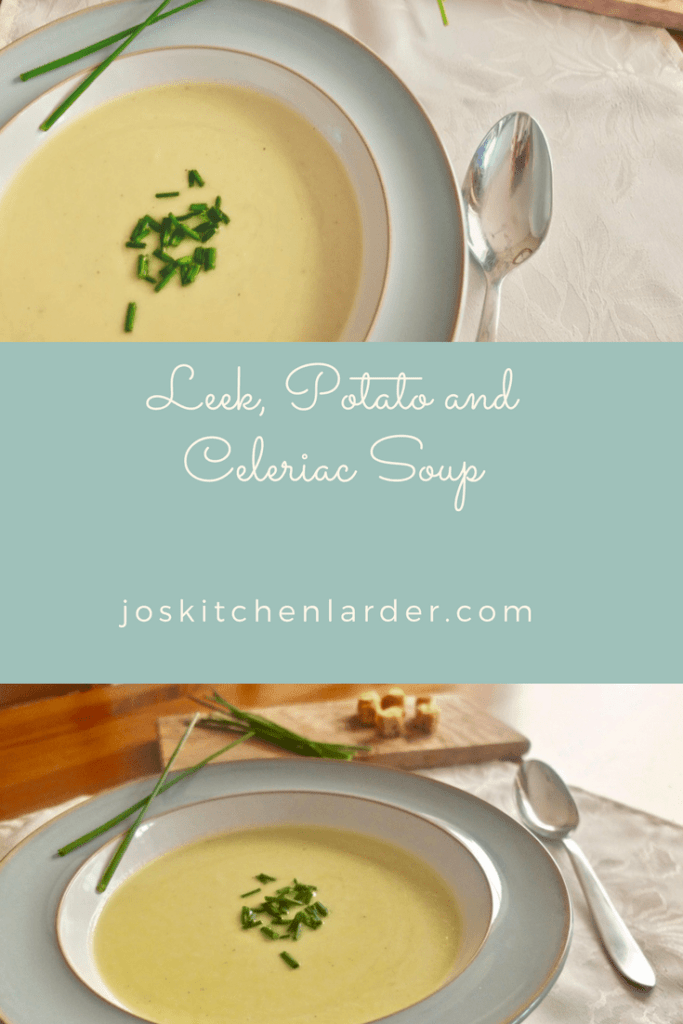 I'm linking my Leek, Potato and Celeriac Soup with the following blog challenges:
Tinned Tomatoes Meet Free Mondays